Youth Bursary Awards – The Amazing Experiences Awaiting You!
Are you currently a volunteer or an employee of the Royal Voluntary Service, aged between 16 to 25 years old? If so, The Youth Bursary Award may be a chance for you to go and do even more amazing things!
Each year the WRVS Benevolent Trust provides bursaries of up to £2,000! The money assists you in partaking in an event or opportunity that will benefit either your personal development or your future career. It's easy to apply – and we even provide you with Top Tips on completing your application.
Perhaps you need some ideas or inspiration as to what you can do? Why not read some of these fantastic experiences from our previous applicants.
Katie – Jamaica Youth Exchange 2016
After Katie had finished sixth form college, she spent two weeks in Jamaica with Wales Synod Cymru. The first part of Katie's memorable trip was spent at a Methodist Youth Camp where she was involved with Bible studies, art and crafts, drama, choir, dance classes and sports. The evenings at camp varied with singing and various group activities – quizzes, films, and challenge sessions were the highlights.
There was even a chance to visit a local beach with the children. Next, was a three day visit to Jamaica's National Children's Home where she enjoyed a mix of crafts, sports, bible study and songs. Other highlights included visiting Pembroke Hall to see a steel drum band, staying in a luxury villa and climbing the waterfall at Dunn's River.
Here's what Katie had to say about her trip: "This trip has been truly life changing! I have made friends for life – the 8 other young people I travelled with were truly inspirational. The trip opened my eyes to the hardships faced by a developing country. I came away with a much better outlook on life, realising that I am very fortunate to have the life I do. This trip has brought me closer to God and has inspired me to do more for others."
Declan – Nicaragua
During the summer of 2016 Declan, along with nine other pupils from his secondary school, went on an expedition to Nicaragua for eighteen days. To go on this trip, they each had to raise £3,275 without financial aid from their parents – the money received from the WRVS Benevolent Trust contributed towards their target. During the trip, Declan was involved with building a stage for a local High School's first ever graduation and helping out at an after-school club which was held at the high school. He also got to experience Nicaraguan culture with salsa lessons, tortilla masterclasses, climbing a volcano and seeing sloths in the Matagalpa cloud forest.
Declan sums his trip up "The trip taught me so many things that I genuinely believe will stick with me for the rest of my life and I am so grateful that I got to go. In terms of how this affected my life, well I believe that I wouldn't be enjoying life in general as much as I am now because I have so much more confidence".
David – Qualified as a Professional Minibus Driver
September 2016 was the month that Richard passed the four modules required to qualify as a professional minibus driver. After passing his theory test, there were two days of practical training followed by the tests. The final driving test involved various exercises including an independent drive, parking close to the kerb, moving away safely and pulling into bus stops. The test was an hour long, and after driving back to the test station, Richard was relieved to hear that he had passed.
In the near future Richard plans to become a backup minibus driver for the Royal Voluntary Service, once he has received the formal induction. Qualifying has helped Richard greatly with his career development as he can now pursue a career as a professional minibus driver and it will make the transition to obtaining a full PCV licence for large buses much easier.
Lena – Okinawa, Japan
Lena used her bursary provided by the WRVS Benevolent Trust to fund a trip to Okinawa, Japan, so she could sit her senior black belt exam in Goju-ryu karate. Lena was able to spend two weeks on the tropical island, training under the most qualified instructors in the world. Lena was joined by her twin sister.
Lena successfully passed the exam and received her senior black belt. As this was around her 18th birthday she is now one of the youngest senior black belts in the association.
Upon returning to Scotland, Lena realised she had gained much more from the experience than her senior black belt, having experienced a culture that she loved and learned customs she was previously unaware of.
Both sisters had to be self-sufficient, learning to budget, shop and communicate with the locals. Lena found the people of Okinawa to be very polite, friendly and welcoming which helped them overcome the language barrier.
This is what Lena had to say about her trip "In summary, I can honestly say that my trip to Japan has been the most wonderful, amazing experience of my life so far and I could not have done it without the bursary I was given. My experience has made me a better, more well-rounded person and I hope that I can translate this into my future so that I can help others to achieve their goals like you have done for me."
The Flying Doctor – Australia
The Benevolent Trust was able to assist a student doctor with the fees for her elective with the Flying Doctor Service in Australia. The bursary enabled her to experience medicine in a completely different country and environment.
The first two weeks were spent in rural areas of Western Australia at skin clinics, operating theatres and in the General Practice. With the encouragement and direction of her supervisor, she was able to gain practical skills that will be invaluable once she has qualified. She soon realised that GPs in rural Australia have a diverse skill set, acting as anaesthetists, carrying out emergency operations such as Caesarean sections and appendectomies and acting as the local family doctor.
However, there was no time to rest, as next was a 3-day outback 4-wheel drive adventure as the medical support team for the Variety Club Charity car rally. The trip headed to Steep Point, a picturesque cliff top overlooking Shark Bay, where she spotted her first whale!
"I would like to take this opportunity to thank you all for enabling me to have an experience that was thoroughly enjoyable, hugely educational and that has changed the way I approach my life and work. Your generosity has been invaluable."
Project India 2011 by Katie Logan
Katie's bursary went towards funding a trip with Project India who support groups of 16-19-year-olds from across the United Kingdom to travel to India. The project involved helping with the construction of a school and other buildings for young deaf and blind children as well as the opportunity to spend time working in the local missionary hospital. This formed part of Katie's' Gold Duke of Edinburgh Award scheme.
A typical day's challenge would be to increase the height of the new school building by approximately three feet. This would be done by splitting them into either the Brick or Cement group. Some of the work was physically quite exhausting, but she loved watching the progress they made. The evenings were spent organising football games or cricket matches.
Katie and a few others from her group then went on to spend a few days at the nearby missionary hospital where many of the patients had leprosy. She also visited a school for children with learning disabilities who loved singing and dancing for visitors.
Katie's trip had such an impact on her that it influenced her decision on what subjects to take at school so that she can study Sustainable Development and Environmental Science at University. Katie said, "It has been a life-changing experience for me and one which I will never forget because of the friends I made in India, mainly the children who were all special and who were all exceptionally inspiring."
Eleanor's African World Challenge
Eleanor's bursary from the WRVS Benevolent Trust went towards her World Challenge fund which covered all food, accommodation and transport for the month. The team consisted of 19 students aged between sixteen to eighteen and school leaders. The trip was entirely run by the students, and they had to organise everything as a team. The trip was split into four phases; acclimatisation trek, main trek, project and then finally rest and relaxation.
The project was working on an orphanage located in the town of Bagamoyo. They had to dig all the earth out from inside a cowshed then mix cement by hand so they could plaster the walls to renovate it. The kitchen was also re-plastered. Eleanor also painted many murals for the children on the buildings.
The highlight of Eleanor's work was raising additional money to see a group of HIV positive children; they paid for their transport and lunch and played with them for a day doing art activities and reading. "For me this was an incredibly sobering but rewarding experience. Some of the children
at the orphanage were also HIV positive and seeing the extent of medication they took each day was a reality-check."
In the last week of Eleanor's trip, the group spent two days on safari and also stayed at Bagamoyo beach resort before coming home.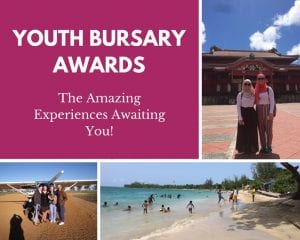 If these experiences have inspired you then why not read more about our Youth Bursary awards here. Perhaps you're not ready to apply yet, or maybe you have a few questions? If so, then please call us on 07968 098275 and leave a message – we will call you back.
Applications need to be submitted by the first week in March so that our Board can decide at their March meeting. If you're interested, please click here for an application form. We have also written a blog post on top tips to complete your form here.
Good luck and we look forward to receiving your application!