My name is Carrianne, I am a third-year student studying Anthropology and International Development at the university of Wales Trinity Saint David, Lampeter. In 2019 I was granted a £2,000 Educational Bursary to take part in an anthropology field school in Gozo, Malta called Off The Beaten Track.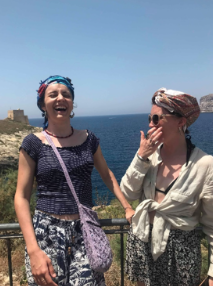 The bursary meant that I was able to attend a summer school, living in Xlendi, Gozo for three weeks in July 2019. Whilst there I was able to meet other anthropologists from around the world; Canada, China, Romania, USA, and I learned so much from forming those new relationships; I have lifelong friends.
The Field school was incredible, as it gave me workshops in writing
academic papers, ethnographic poetry, and inter-species dialogue. As well as giving me time to conduct my own ethnographic research around the island. The information from which I will be using to inform my dissertation in this final year. Furthermore, this opportunity has offered me the chance to write an academic paper with support from other professionals in the field.
Attending this summer school was a once in a lifetime opportunity, and if it wasn't for the WRVS Educational Bursary Award, it would never have been possible.