Celebrating our Wonderful Volunteers – Thank you
On the 22ndSeptember 1953 Stella Dowager Marchioness of Reading GBE, gave £1,000 to WVS Trustees Ltd to create a fund for charitable purposes and thereby created the WVS Trust.  The Trust as we know it today was signed on 16th November 1970 in the sum of £10,000, with seven trustees. 48 years later the Trust is still run by volunteers whose hard work, time and commitment are an essential part ofthe Trust.
The aim of the Trust today is the same as it was all those years ago; to help those who are, or who have been WVS, WRVS or Royal Voluntary Service volunteers or staff. We help by giving one-offgrants to past or present volunteers or staff who find themselves in need of financial assistance due to an urgent need or crisis.
Volunteers' Week has been running for a number of years to celebrate the fantastic contribution that volunteers provide. An estimated 11.9 million people formally volunteered at least once a month and 19.8 million formally volunteered once a year in 2016/17 (source NCVO). The WRVS Benevolent Trust like many charities could not survive without the help of its volunteers.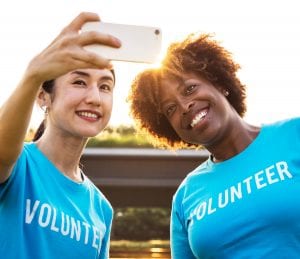 The aim of Volunteers' Week is simply to say thank you and highlight the valuable contribution volunteers make to society and the economy.
It happens every year from the 1st – 7th June and there all sorts of events and celebrations that are taking place. To find out more information and get involved please click here.
The WRVS Benevolent Trust has many volunteers including the Trustees that sit on the Board. Two of our Board members, Gwen and John found themselves initially volunteering through entirely different routes, Gwen as a student and John through his children. Our amazing Trustees also help other organisations, between them they volunteer for another 12 groups, club, charities or organisations.
So why do our Trustees choose to volunteer? Here are some of their reasons:
"Feeling of involvement, satisfaction and enjoyment."
"Reward of helping others and importantly meeting people."
"I think it broadens my life experience."
"Meeting people giving something back to the community."
Not yet volunteering but perhaps thinking about it? One of our Trustees has this piece of advice "do it – it will be a great experience. I have made great friends through volunteering, sharing experiences and also learning about myself, what I can achieve, and what a team can do."
We want to say a HUGE thank you to each and everyone of the WVS, WRVS or Royal Voluntary Service volunteers who have supported people over the years and still continue to do so.  Don't forget that we'rehere to help YOU. Therefore, if you're ever faced with financial hardship, please don't struggle alone. You have done so much for others so let us give something back.
More information about our grants can be found here. And did you know that we also provide Youth Bursary Awards?  Our Youth Bursary Awards are given each year to assist current Royal Voluntary Service volunteers between the ages of 16 to 25 in taking part in events or opportunities which will benefit their personal development and future career. Further information can be found here.